We have had a few people ask, tomorrow is a normal uniform day. it is not spirit day. Also this week: Tuesday- 8th grade last day, 8th grade "walkout", Graduation Mass and Passing of the Light Ceremony (7th & 8th) Thursday- Last day of school- Awards day in church beginning at 9:00am. Parents are welcome, although seating will be limited. 11:00 last day cookout in school parking lot. 12:30 dismissal, busses will run.

8th grade at Kings Island!

Please be sure to check for white folders today. They will be with the youngest member of each family. Folders will contain: -spring pictures -yearbook order forms -tuition and lunch balances -7th and 8th grade graduation information.(return service requested) -7th and 8th grade SPS dance permission slips -8th grade Knights of Columbus Catholic High School Essay Information

This is a reminder that our annual Science Day at Eagle Creek is scheduled for tomorrow. We are on for now, but the weather could change that. We will let you know if anything changes. Students in 3-8 may be out of uniform. They may wear clothes that are creek appropriate, but also school appropriate. No short shorts, nothing skin tight, no tank tops or sleeveless shirts. Students should also bring a beach towel and an appropriate change of clothes for when they get back. A change in shoes, and a bag to keep everything in, is also a good idea.

Huge thank you La'Vaya Stevens' parents, Travis and Kelly who will be providing Pasquales Pizza for our students this Friday! Thanks also to Dolores Stuhlreyer and Barb Connor for donating chips and Emily Ernst for providing drinks for our students this Friday! Thanks again to everyone who has donated pizza, chips and drinks for our students during the fish fries!

LAST FISH FRY OF THE YEAR! We hope everyone can make it out this week for lunch (11-1) or dinner (4-7). There might be some extra items available for dine in this week. Hushpuppies will be included with all dinners. Also the $10,000 drawing will happen at 6:30. See you Friday!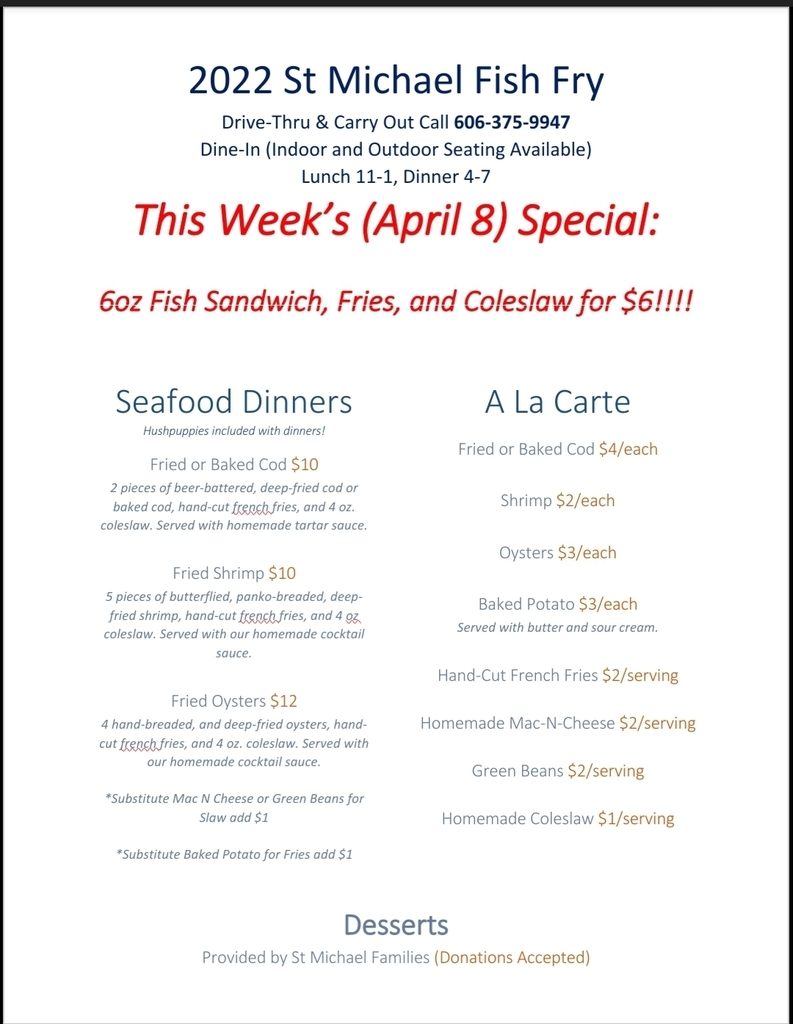 This week is the last fish fry. Most of the people on this list have worked every one if them. We will need a lot more help than this, this week. If you can help please let me know. Thanks!

Huge thank you to everyone who helped at the fish fry yesterday, especially those who werent on the schedule, but came in to help. Everything ran smoothly and cleanup went quickly. This Friday is our last SMS fish fry of the year. We are in range of our goal of raising $25,000 over the six weeks, but we need a big final week. Please spred the word and encourage everyone to come eat lunch and/or dinner with us next Friday!

There are a couple changes to the lunch menu this week. Thursday will be meatloaf or lasagna with salad and fruit. On Friday, April 1 our students will be treated to Parker's Pizza. This pizza is being provided to our students free of charge by Parkers and the Heslar family. Huge thank you to the Heslars and Parkers Pizza in Georgetown!

This is a reminder that tomorrow is SMS Spirit Day. Students may wear SMS spiritwear with jeans/jean shorts or uniform shorts. Lately, we have had some who have been taking advantage of spirit days. Please be sure your student is not wearing ripped jeans or jeans with holes in them. Also, leggings, stretch pants, athletic shorts, and sweatpants are not acceptable. Students may also not wear other shirts or sweatshirts like Ohio State, Bengals, or local high school shirts or sweatshirts. If you have any questions about the dress code please see the handbook.
https://www.stmichaelripley.com/browse/276845
Thank you!
7th Grade Parents: Tomorrow (Friday, March 25th), 7th-grade students will be working on a diorama project in class. Earlier this week, I asked students to bring in any necessary materials for this project. Would you please remind them of this? The project is due on Monday, and I want them to have adequate time to complete it.

Huge thanks to Davana Smith for donating chips for our students' lunches to go with their pizza tomorrow!

This Friday's cheese pizza for our students' lunch has been sponsored by SMS parent Beverly Lipps! No student will be charged for pizza this Friday. If any student does not want cheese pizza they should pack their lunch. All students should bring their own drink or use their water bottles. Thank you Beverly!

Fourteen SMS students joined 16 students from St Mary, St Michael and St George to receive the Sacrament of Confirmation Tuesday night. Congratulations to all!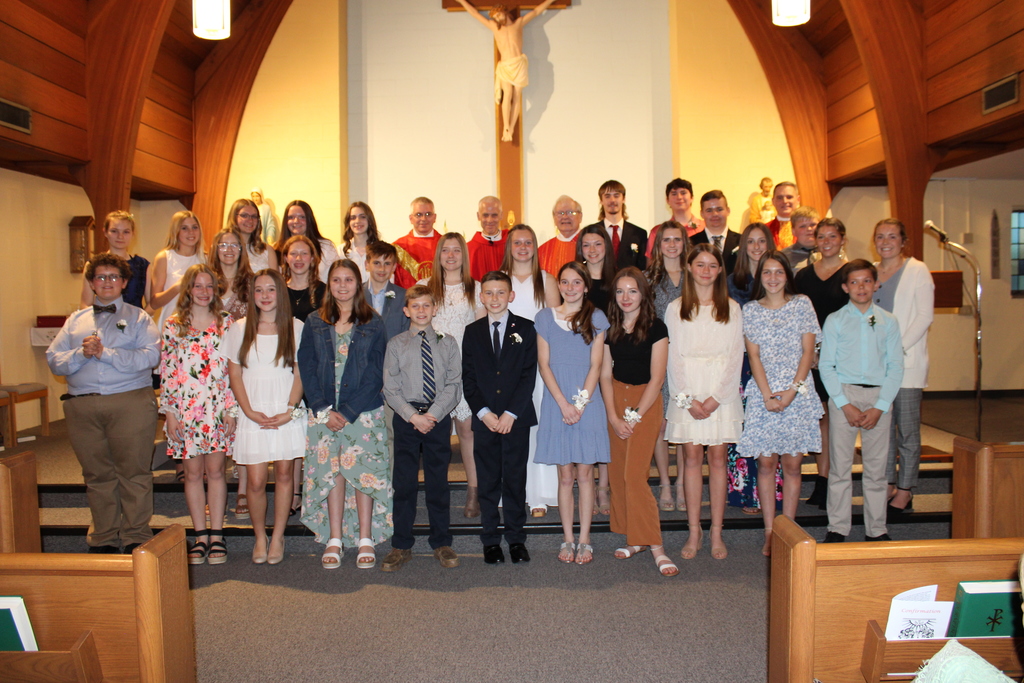 Congratulations to our 14 students who received the Sacrament of Confirmation this evening! Gabrielle Ernst, Kailen Offutt, Sydney Arn, Jake Franklin, Theo Lovett, Sarah Patchell, Alyssa Seip, Brock Gray, Madison Hopkins, Abbey Burns, Elise Tracy, Addison O'Connor, Tori Tarvin, and Gunner Ernst. God bless you all!

There has been a change to the lunch menu for this Friday. Instead of our regular "pack day" due to the fishy fry, we will have Giovanni's cheese pizza available for students. This will be counted as a regular lunch charge for our students. To help us order the correct amount of pizza, we will take lunch count for Friday on Thursday. Thank you.

Elouise's cousin Miles visited SMS today for World Down Syndrome Day! At morning prayer we talked about the importance of awareness, inclusion, rights and dignity of all people. We also took a few pictures! On Thursday we will have a guest speaker who will answer questions and speak more with our students about Down Syndrome. Thanks to all who donated and participated today!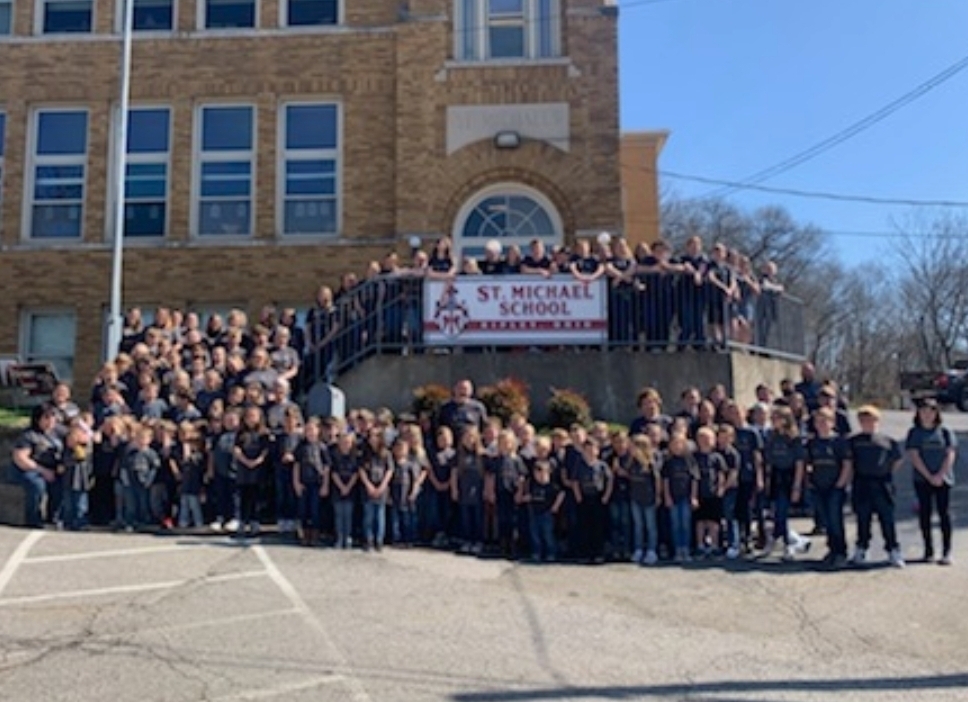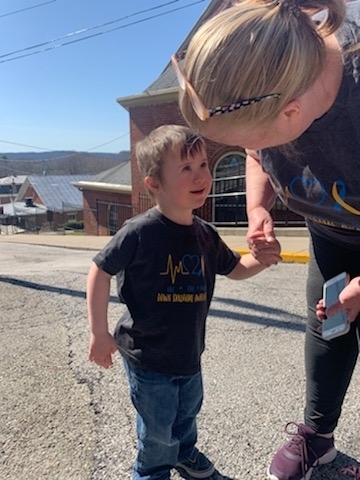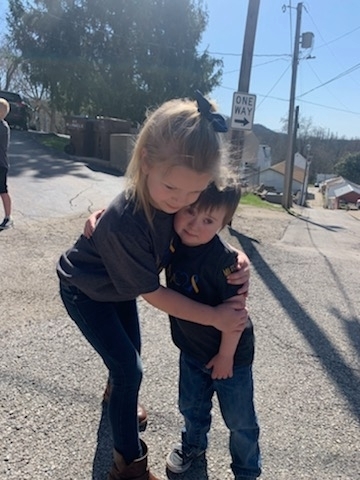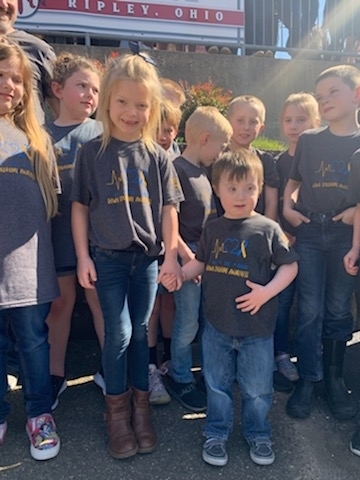 This is a reminder to our entire student body and staff to be sure to wear your World Down Syndrome Day shirts to school tomorrow, with appropriate jeans or shorts. T-shirts were sent home with every SMS student last week. Students are also encouraged to bring in a donation for Down Syndrome Awareness. This is a link to the article we posted about it a few days ago. Thank you!
https://www.stmichaelripley.com/article/674201

SMS watched the first performance of St Patrick's production of "Alice in Wonderland". Great job to all the SPS students, and we are especially proud of former SMS students Bella Inskeep (the cook), Rhiannon Nuernberg (Queen of Hearts), and Alex Arn (Alice).