The SMS Fish Fry is coming soon! We begin Friday, February 24, March 3, 10, 17, 24, & 31, each day 11-1 and 4-7!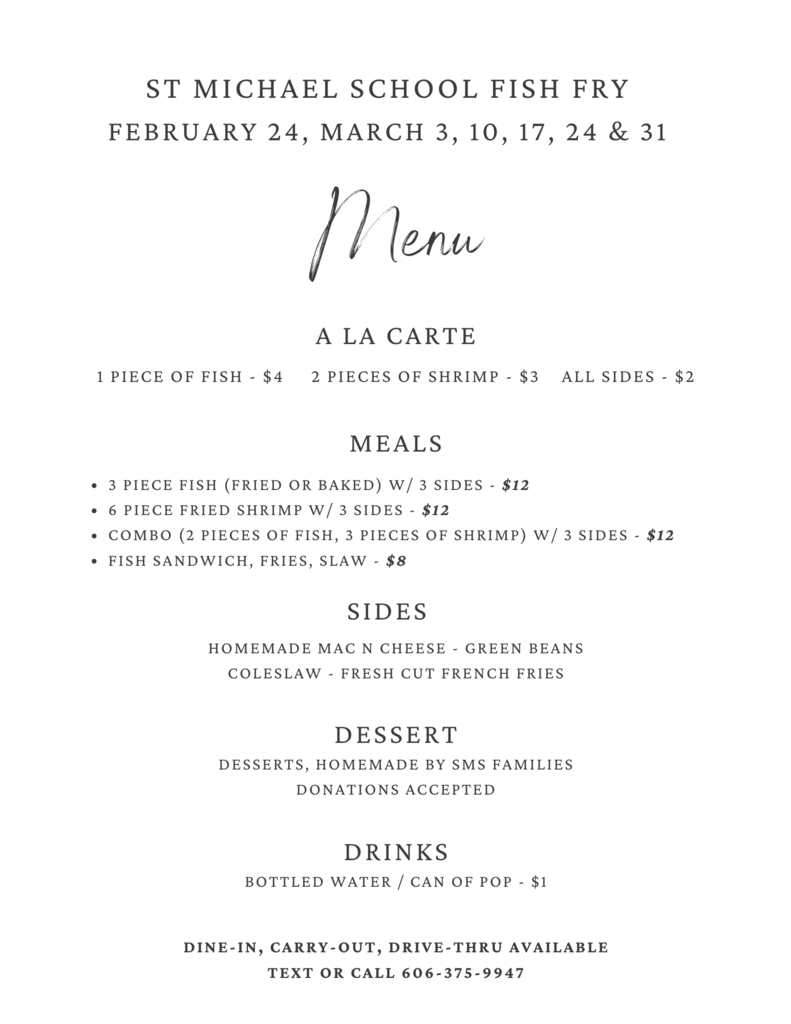 Monday Chess Club Finals Can the following students please report on Wednesday after school to finish up their bracket? Lakin Jones, Owen O'Connor, Weston Wireman, Justin Nead, Cooper Bonar, Luke Brookbank, La'Vaya Stevens, Mirah Santoro?
CHESS CLUB TOURNAMENT THIS WEEK Monday chess club is still in full swing, and I need all Monday participants after school. Wednesday club is finished with semi-final round, so no Wednesday chess. Friday should be only those players still competing (unless your sibling/ride is still in). Next Monday the 13th will begin the school-wide finals after school. I will post the final 12 participants at the end of this week. Been a great tournament so far and looking forward to the finals!
If you have students that are interested in coming to the NET Ministries event please register by tomorrow.

Update on the resource drive for the Pregnancy Resource Center: Pre/K- 14 items 1st/2nd- 23 items 3rd/4th- 40 items 5th/6th- 2 items 7th/8th- 0 items We have until Monday, January 30 to get items in for the Pregnancy Resource Center. Great job to all who have already donated, if you haven't there is still time!

Good morning, just a few quick messages about today's Christmas Concert at the Gaslight Theater in Georgetown. As mentioned in the text message this morning, please have students in the building with their classes by 2:45. Grades 3-8 will be in the back rows of the balcony (they know where to go). Grades P-2 will begin backstage. After Preschool performs, they will be dismissed back to their parents, so will K-2 after each of their performances, so you should be sure you have room for them to come sit with you after they perform. 3-8 students will return to the balcony after their performance. We are doing it this way to ensure that parents, grandparents, and any other family and friends will have the best seating possible. We are looking forward to another great show today! See you this afternoon!

Good afternoon SMS Families! Be sure to check your youngest child's backpack today for a very important folder. It will contain report cards, SMS $10K tickets (10), as well as other information. Please remove and review the contents of the folder, and return the folder on Monday. Each family is responsible for the ten tickets we are sending home. More on the SMS $10K Giveaway can be found here:
https://www.stmichaelripley.com/article/914110
Thanks to everyone who helped with our ofrendas alter!
Reminder: There will be no Ripley bus service tomorrow, Tuesday 11/8.

Please dont forget the Harvest Dinner on Sunday. Ideally, desserts should be dropped off Sunday morning before 10am, but if you are having transportation issues, they can be dropped off Friday. Also, spread the word and make sure you come eat with us on Sunday!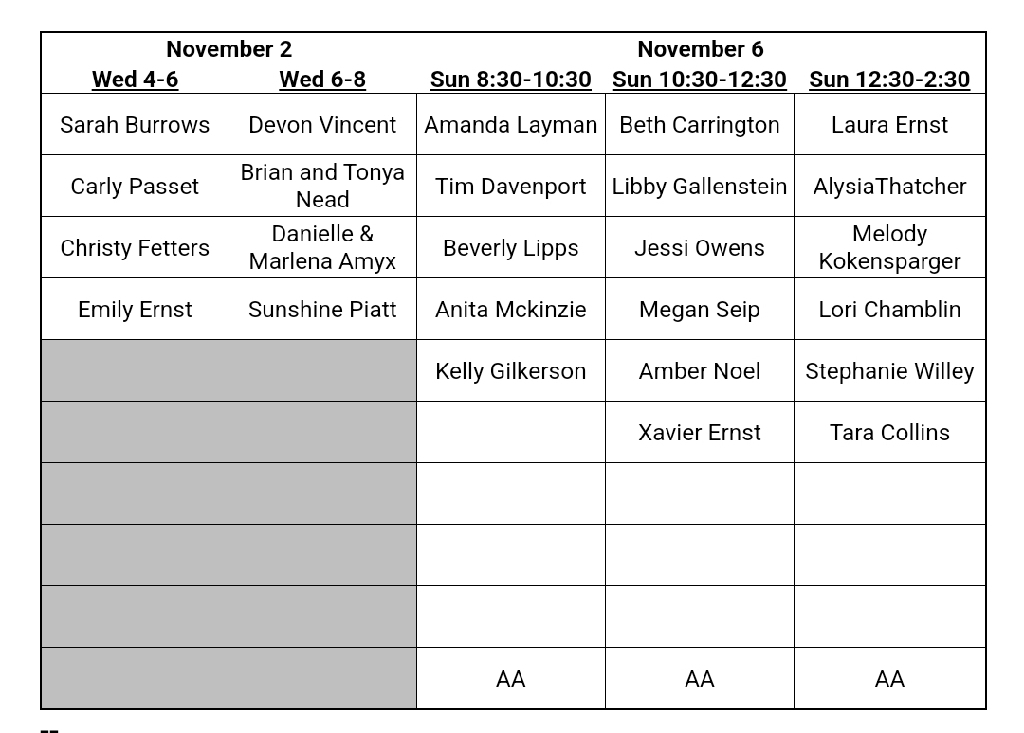 We are looking forward to a great week at SMS! Just a few reminders about this week. Monday is spirit day. Students may wear a SMS spiritwear top with uniform pants. Tuesday is All Saints Day. School Mass will begin at 815am. Students may dress up like their favorite Saint! (
https://www.stmichaelripley.com/article/884361
) . The 3rd grade will be testing on Wednesday and Thursday morning. Our school Halloween Party is Friday, and the Harvest Dinner is Sunday. For more details, click "news" on the website. See you in the morning!

Good Afternoon SMS Families, We have two announcements today. First, in the interest of safety for our children at play in the parking lot, we will be closing the main school parking lot daily when children are playing or walking in the parking lot. There will be a chain blocking the entrance. If you come to the school between 10:30 and 2:40, and the chain is up, you will need to park on the hill and walk to the office door. Second, we would like to remind you that students may dress up for class Halloween parties on Wednesday, October 26. Please make sure costumes are Catholic school appropriate and will not prevent students from participating in normal school day activities. Have a great weekend!

Thanks to an anonymous donor, cheese pizza from Pasquales on Friday is free for everyone! Thanks to our donor for their generosity!

Long division using place value while emphasizing the concepts of sharing, splitting or dividing equally.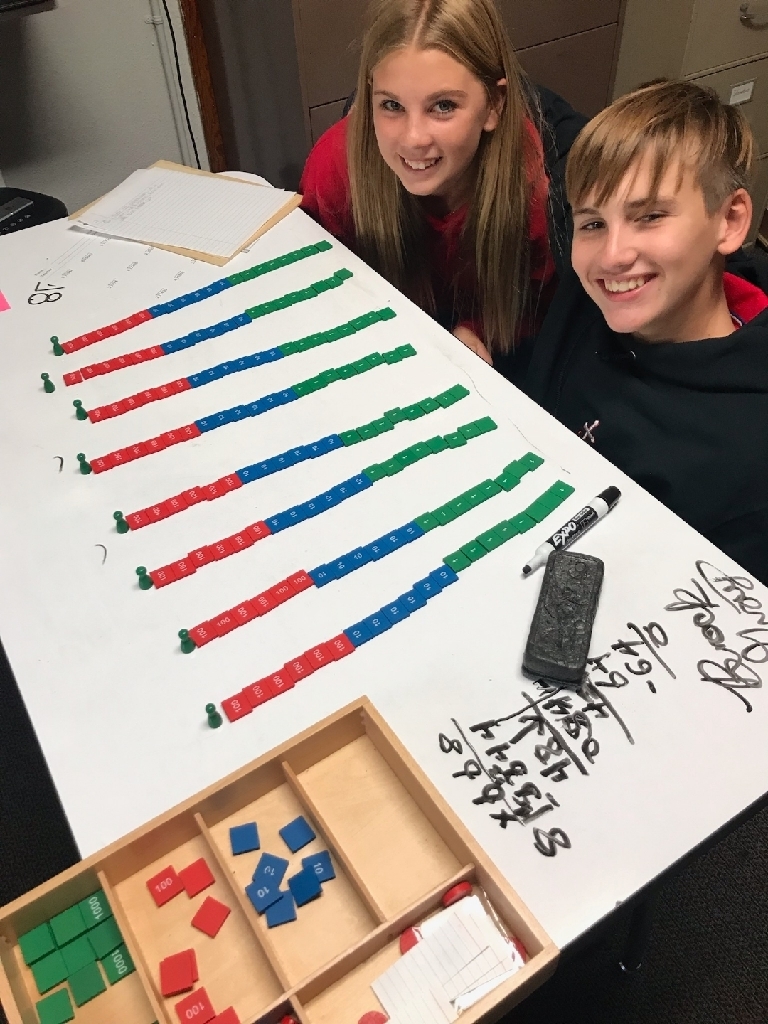 Good morning SMS families! This is another reminder that we will dismiss at 12:30 today due to parent-teacher conferences this evening. For all of our parents coming for conferences, please be sure to be here at your scheduled time. In order to allow all conferences to stay on schedule, and parents to be able to meet with all requested teachers, our bells will ring every ten minutes to keep on track. Thank you, we look forward to seeing you tonight!
Reminder: Early (1230) dismissal tomorrow due to parent teacher conferences. The Georgetown bus will run as usual. There will be no afternoon Ripley bus.

Please check backpacks tonight. The youngest child in each family will be bringing home a slip of paper confirming times for parent teacher conferences. They will also have signup sheets for the Harvest Dinner. Thank you!